Big Bang Theory Howard repairs moving head fixture
Howard from Big Bang Theory apparently repairs moving head fixtures as well as designing telescopes and toilets for the International Space Station.  I've been watching my way though series 1-6 on a DVD box set and noticed at the beginning of "The Launch Acceleration" (series 5 episode 23) that he has a disassembled fixture on his workbench. You can even see the colour wheels.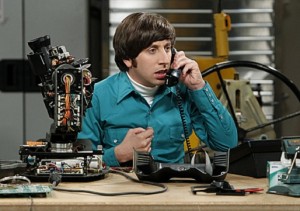 Perhaps Howard had been reading my guide to replacing LEDs in the Q-Spot 260.