Live and streaming video system for church
How many blog posts start with "it's been a long time since I posted…"? Part of the point of this blog is to document some of the things I do, partly because they might be interesting to someone else, and partly because it helps me remember what I've done and document it in case I or somebody else needs to fix it in future.
So this is a live and streaming video system for my church. Its features include: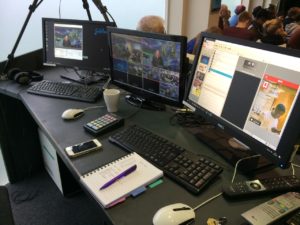 three HD video cameras
live video mixer/switcher
custom keypad for source selection and cut/wipe
Playout PC with Quelea church presentation software, Powerpoint, Skype etc.
three live outputs: main video projector, confidence monitor, relay TVs in creche and mother/baby room
live outputs may be independently switched between fullscreen output from Playout PC (recorded video, song words etc.) and Programme i.e. live camera feed
overlay graphics from Playout PC onto live Programme
live stream of Programme to church website
recording of Programme to upload as podcast/vodcast
song lyrics keyed over live stream as a lower third
Skype conferencing with Programme as "webcam" feed into Skype, with caller's video sent to projector and confidence monitor
The challenge with this kind of setup is to have something that's stable, i.e. not requiring constant changes to settings and plugging in of cables, and easy enough for non-technical volunteers to use. Putting the system into a rack enclosure makes it possible to tie most of the cabling in place and avoid leads falling out or being fiddled with. The custom keypad goes a long way to making it easier to operate the video switcher.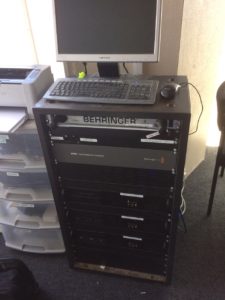 Blackmagic ATEM
The Blackmagic ATEM 1M/E switcher is a nice piece of kit that can be bought on eBay for pretty decent prices now. There are newer 4k versions of all their kit, which has pushed prices down. There's no point using 4k in this sort of setup: bandwidth won't allow for live streaming in 4k, the video projector and TVs don't support it, and we don't want to buy a new compliment of cameras. The small and medium production companies and studios are selling their 1080p (i.e. "2k") gear because their workflows benefit from having the highest definition material at the point of recording.
Each of the feeds (projector, confidence monitor, live stream/recording) is run from a separate aux output, which can be controlled from the front panel. A dedicated button on the Genovation keypad allows the projector and confidence monitor to be swapped between the programme (i.e. live video camera) and a direct feed from the Playout PC.  Normally both would be set to the Playout PC, so that recorded videos and song lyrics go directly to the screens. For "Imag" purposes, e.g. during an infant dedication, the programme output is sent to the projector so that the congregation can see what the camera is zoomed into.
Software
The software we use includes:
Quelea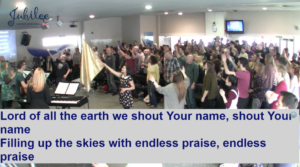 This is a free church presentation package. It does the usual song lyrics and Bible verse projection but also works well with h.264 (i.e. "mp4") videos and will also embed most Youtube content. The only thing it doesn't do well is more complex Powerpoint presentations. It's completely free and maintained by a dedicated band of volunteers, and is also cross-platform. A very useful feature is a custom web server that can be accessed across the network, designed for use as a stage monitor, but with a bit of fiddling can be used as a lower third to show the song lyrics on the live stream. It could be prettier but it works well and requires no extra effort from the team.
OBS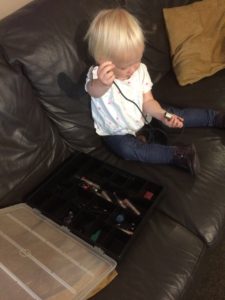 The Open Broadcaster System is another free cross-platform application that recreates much of the functionality of commercial streaming software such as Wirecast and adds a few tricks of its own. As well as bringing in the programme video for streaming, it overlays a little "bug" of the church logo. It has a web browser source which is used to access the Quelea custom web server and overlay this for the lyrics. It can record an h.264/mp4 file whilst streaming, which is used to create the podcast and vodcast.
AviDemux
You guessed it… free and cross platform. This simple video editor can trim and h.264 file without needing to reencode. We cut the recorded stream down so that it's just the sermon (licensing for providing recordings of the worship is much more expensive than just streaming) and save to a new h.264 file in a few seconds. An mp3 audio version of the sermon is created from the same file, which takes a little bit longer as this does require reencoding.
Just Macros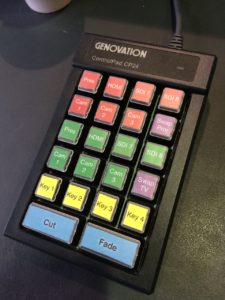 This does have a free version for non-commercial use which generates an annoying popup that we live with for the moment! Just Macros is designed for remote control and automation in a television studio. I wrote scripts to capture key presses from the custom Genovation keypad and use them to control the ATEM switcher. It also has a startup macro that resets the switcher settings to a standard state whenever the system is started up.
In Use
The setup is relatively easy to use for non-technical volunteers.  We have one camera on a tripod, pointed towards the front on a wide shot, so that it can be moved around if necessary. The other two cameras are fixed, one tight on the lectern and one looking back at the congregation with a wide-angle lens. This gives enough variety to keep the live stream and recording interesting without lots of extra work. It's a busy job running playout and producing the video programme, and in an ideal world we would have two people behind the desk. For larger events and conferences we can plug in a fourth camera with a dedicated operator and produce the video from a separate desk.
System Diagram
Here is my somewhat messy diagram showing how it all connects together.